ABOUT US
Acrofit was built on the idea that fitness can go beyond what is available at regular gyms. We offer our clients alternative fitness programs that include aerial silk, pole fitness, yoga/flexibility, acrobatics, and even Ninja Warrior style training.
People often look at acrobatics and think "there's no way I could do that" and feel intimidated. We want to break through these misconceptions, to show that these skills can be achieved by anyone, and that you'll have a blast while doing it! Regardless of your skill level, whether you're a beginner or a professional looking to up their game, our top level coaches will ensure you get the training you're looking for.
Welcome to Acrofit!
Our 3000 sq.ft facility features 30 foot high ceilings, and 3 separate studio spaces for our various programs.
Studio 1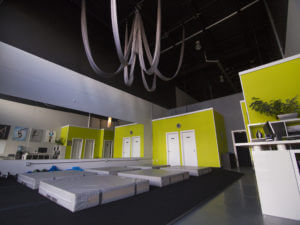 Our main room can accommodate 6 aerial rigs, and is home to our silks programs, handstands and tumbling, acro yoga, and kids classes.
Studio 2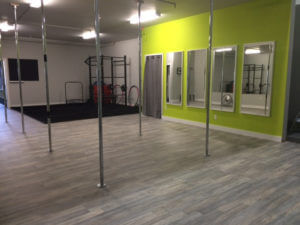 Our second studio is where we have our pole fitness classes, as well as our Acro Ninja program with a full-sized warped wall. Our clients can also enjoy the use of weight training equipment and mini rock climbing wall.

Acrofit is also home to professional performing group Dynamic Aerial & Acrobatics, founded by Acrofit owner Daina Wilkie. D.A.A. provides high level contortion, aerial, and hand balancing acts for corporate parties, weddings, and other events. Click here to find out more information!
Meet the Team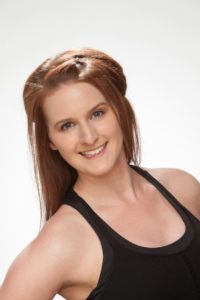 Daina Wilkie fell in love with the art of Acrobatics at the age of 5. She has now been training for nearly 20 years as well as coaching for over 7 years, with her primary specialties being contortion, hand balancing, and aerial hoop. Daina also owns and manages Dynamic Aerial & Acrobatics (www.dynamicaerialandacrobatics.com) which specializes in professional aerial & contortion performances and classes. Daina has had the opportunity to perform at the 2010 Olympic Winter Games, Z95.3's 2014 Launch Party, Global TV Christmas Parties and at many corporate banquets and weddings.
Daina has also had the privilege to train over the past few years with some of the most well known circus performers from Las Vegas, Nevada such as Cirque Du Soleil veteran Otgo Waller and Kristi Toguchi. Daina's acro-related certifications include Alixa Flexibility Level 2, AFSA Associate Teacher, Acrobatics Arts Level 2, and CDTA Associate Teacher.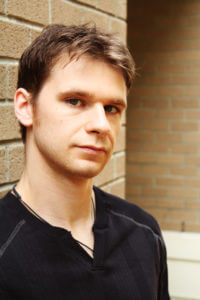 Lucius Fairburn is a professional film industry stunt performer, with a background in Parkour, Freerunning, and martial arts. He has been training for over 15 years and has been a licensed personal trainer for 10. Lucius's goal is to bring a fresh perspective to training, and brings to the table his unique skill set in different types of movement. His notable film/tv credits include stunt doubling for Simon Pegg & Anton Chekov in Star Trek Beyond (2016), motion capture for video games, and live performances for companies such as Microsoft and Telus.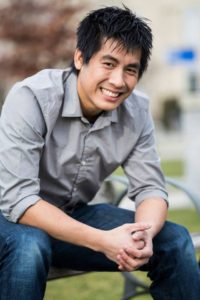 Mike Wu is also a stunt performer in the film industry, and has a background in martial arts and acrobatics with over 10 years of training. Mike also has an extensive background in cinematography and online media, and is the manager of Acrofit's marketing and web presence as well as assisting with coaching. Mike currently works on The Flash television series as a stunt double as well as assisting in action design/choreography. His other notable film/tv credits include Arrow, Supergirl, and The 100.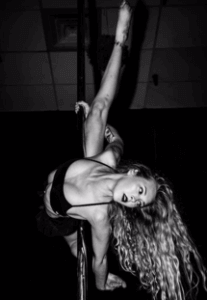 Teghann grew up in Kamloops in the Okanagan and moved to White Rock 4 years ago for school. She has been doing pole 3 years now and says it's the best thing to happen in her life. Teghann loves trying new things on the pole, becoming stronger and more flexible in such a fun way. Her passion for pole shines through when she passes her knowledge, enjoyment, and technique on to her students.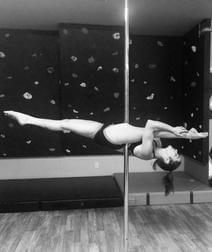 Amy grew up in B.C. on a small farm. It wasn't until her late 20's while living in the U.S. she got into fitness. Amy was looking for a fun, challenging but non-repetitive form of exercise and that's when she discovered pole dance fitness. In 2011 Amy became a certified Pole Fitness Instructor from PDIC in Las Vegas. In addition to pole fitness Amy received her Aerial Yoga teacher certification in 2013. The stretching and relaxation that comes from aerial yoga is a perfect compliment to the strength, body conditioning and confidence she has gotten from pole fitness. Amy enjoys spending her free time with her little dog, two cats and horse.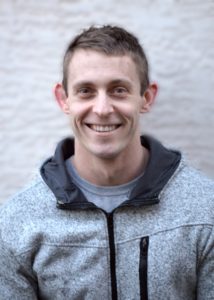 Matt Mayer is a personal trainer as well as an acrobatics coach. Ten years back Matt started coaching gymnastics and moved on to teaching Tricking, Parkour, Trampoline and now Circus. Over this time he has learned many different styles of training and coaching in which he has pulled various techniques to bring a wide range of knowledge into his programs. Matt is always learning and advancing his own training to improve himself to bring new elements to his coaching.